FG-2216
[
customers have already purchased this product.]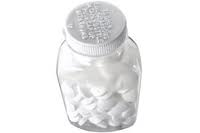 Product name : FG-2216

Product description :
Recently several drugs have been developed which act as selective HIF prolyl-hydroxylase inhibitors. The most notable of these include FibroGen's compounds FG-2216 and FG-4592,both are intended as orally acting drugs for use in the treatment of forms of anemia. By inhibiting HIF prolyl-hydroxylase, the activity of HIF-1α in the bloodstream is prolonged, which results in an increase in endogenous production of erythropoetin.A new drug called FG-2216 can stimulate production of the hormone erythropoietin (EPO) in dialysis patients—possibly offering a new approach to treatment of kidney disease-related anemia, according to a study appearing in an upcoming issue of the Journal of the American Society of Nephrology (JASN).