Melissa Extract
[
customers have already purchased this product.]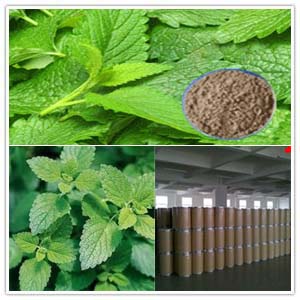 Product name:Melissa Extract
Product Specification:4:1 8:1 10:1
Plant Source Latin Name: Melissa Officinalis
Product description :
Melissa extract is obtained by direct extraction of Melissa (Melissa officinalis) leaf into virgin olive oil. Melissa or Lemon balm oil is traditionally used as a cleansing and nourishing skin treatment. As a result of proprietary cold extraction technology Melissa oil retains green color and attractive Lemon balm aroma indicative of the presence of both volatile and non volatile Melissa ingredients.
Traditional herbal medicine recognizes two major actions of Melissa: calming, relaxing, sleep promoting and anti-inflammatory, antivirus, antibacterial. Both effects have been confirmed to a degree by modern scientific studies. Lemon balm extracts are used to support immunity and help enhance body resistance to infectious viral agents. In fact, a number of Melissa constituents have been demonstrated to possess antivirus properties and in several countries fractions of Melissa extract and oil are utilized in pharmaceutical preparations intended to combat skin virus infections, including herpes.
Melissa alcohol extract - Raw Melissa extract is obtained by direct cold extraction from fresh Melissa leaf. Melissa used for extraction is gown at our farm in pesticides/ herbicides free conditions.