Sucralose
[
customers have already purchased this product.]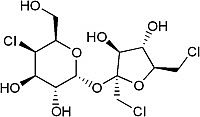 Product name: Sucralose
Molecular Formula: C12H19CL3O8
Molecular Weight: 397.64
Appearance: White crystal
Purity: 98.0-102.0%
Loss on drying: <2.0%
Application:
Because of its extended shelf stability, food manufacturers use sucralose to create great-tasting new foods and beverages in categories such as canned fruit, low-calorie fruit drinks, baked goods and sauces and syrups. Sucralose also can be used as a sweetener in nutritional supplements, medical foods, and vitamin and mineral supplements.
Product Description:
Sucralose is a non-caloric, high-intensity sweetener that is 600 times sweeter than sucrose. Sucralose retains its sweetness over a wide range of temperature and storage conditions in variety of applications.
Packing:25kgs paper drum with plastic lining.