Hypromellose
[
customers have already purchased this product.]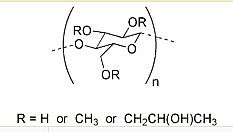 Product name: Hypromellose
CAS No.: 9004-65-3
Applications:
As a food additive, hypromellose is an emulsifier, thickening and suspending agent, and an alternative to animal gelatin. Its Codex Alimentarius code (E number) is E464.
Product Description:
Hypromellose (INN), short for hydroxypropyl methylcellulose (HPMC), is a semisynthetic, inert, viscoelastic polymer used as an ophthalmic lubricant, as well as an excipient and controlled-delivery component in oral medicaments, found in a variety of commercial products.